The 2021 Subaru Love Promise Customer and Community Commitment Award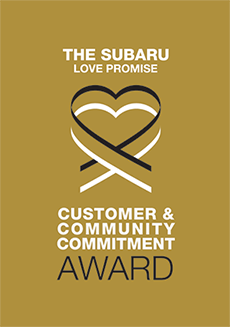 We've been nationally recognized for our dedication to our customers, our community, and the Subaru Love Promise.
We're honored to receive the 2021 Subaru Love Promise Customer and Community Commitment Award. This award nationally recognizes elite Subaru retailers who provide an exceptional customer experience at every interaction with Subaru. These retailers have also demonstrated an outstanding commitment to supporting passions and causes in their local communities in important areas such as the environment, community, health, education, and pets.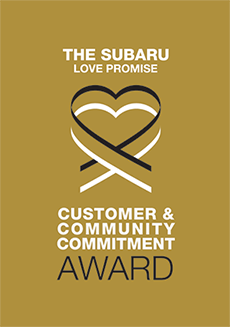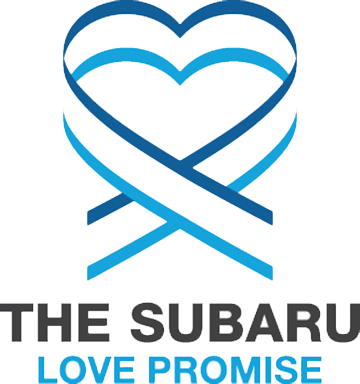 What is the Subaru Love Promise?
Subaru and our retailers believe in making the world a better place and the Subaru Love Promise is our vision of respecting all people. This is our commitment to show love and respect to our customers and to work to make a positive impact in the world.
How is Coconut Creek Subaru dedicated locally to the Love Promise?
Here at Coconut Creek Subaru, our team embraces the Subaru Love Promise, a commitment to giving back to our community. This promise is reflected in our partnerships with local charities and non-profit organizations. We are grateful for the opportunity to be involved in serving our community.
Habitat for Humanity, Hope South Florida
Epilepsy Foundation of Florida, Avon Walk for Breast Cancer
Love Promise Stories from Coconut Creek Subaru
Subaru and Coconut Creek Subaru believe in making a positive impact on the communities in which we live and work. We uphold that belief through our Love Promise Community Commitment. Every month, we select inspiring stories from customers and partners from around our area who strive to support our collective commitment and feature them here
Coconut Creek Subaru Grants a Heartfelt Wish! - Rachel S
On Sunday, June 27, Coconut Creek Subaru opened its doors - and the employees opened their hearts - to Make-A-Wish Kid, Abigail and her family. Thanks to Subaru's dedication to making life-changing wishes come true for the children and families that Make-A-Wish Southern Florida serves, Abigail received her one true with for a new best friend - a fluffy, wet-noised, tail-wagging puppy named Floyd. As Abigail's volunteer wish granter, I was so proud to watch our chapter staff work in concert with the team at Subaru to create a personalized, hand-crafted experience that Abigail and her family will remember forever! Subaru provided a safe space for Abigail and her family to gather and to create lasting memories of this momentous day in her young life. I was most delighted to see Abigail's smile as Subaru staff members introduced Abigail to her new furry companion. Abigail's puppy will be a wonderful source of comfort, and will be by her side to bring her joy and happiness for many many years to come! Coconut Creek Subaru has whole-heartedly embraced our mission: Together, we create life-changing wishes for children with critical illnesses. And for that, we are truly grateful
---
Coconut Creek Subaru Makes Wishes Come True! - stephanie b
With over $12,000+ of funds raised during the 2020 Subaru Share The Love campaign, Coconut Creek Subaru sponsored a VERY special local wish through Make-A-Wish Southern Florida! On Sunday, June 27th 2021, the team at Coconut Creek Subaru all came together and went above & beyond (as always) to host a Wish Reveal Party for 7 year old Wish Kid Abigail-- whose heartfelt wish was for a Bichon-Poo Puppy! The entire team at Coconut Creek Subaru showered both Abigail and her puppy with SO many gifts and surprises; A delicious lunch filled with all of Abigail's favorite foods, gift cards, puppy toys, a new puppy bed, a brand new crate, puppy treats, puppy toys, and lots of presents for Abigail and her sister too! THANK YOU COCONUT CREEK SUBARU, for helping to make Abigail's WISH come true!!!!
---
Coconut Creek Subaru cares - Mary G
Coconut Creek Subaru is a hometown dealer with a heart. For years we have been able to send kids to camp living with epilepsy because of the generosity of the staff and owners of Coconut Creek Subaru. From holiday socials to Share the Love campaigns we have been able to send kids to a specialized medical camp in order to give the families a respite. These kids would not be able to go to any camp because of their medical needs and the friends they make are for a lifetime. The staff has gone out of their way to become certified in seizure first aid in order to assist anyone in our community having a seizure. I want to that Subaru for giving us the opportunity to nominate our local dealer Coconut Creek Subaru.
---
Stuff The Subaru Toy Drive for Make-A-Wish - Stephanie B
Coconut Creek Subaru is currently hosting their annual Stuff The Subaru Toy Drive! These toys will benefit local wish kids from Make-A-Wish Southern Florida— helping to spread hope, strength and joy to wish families when they need it the most! THANK YOU COCONUT CREEK SUBARU!!!
---
I'm In Love with my 2nd Subaru - Bonnie J
In 2016 I bought my first Subaru Forester in Centerville, Ohio. After moving to Florida I regretfully traded it in for a Lexus NX300, it was the worst mistake I could have made. I really missed my Subaru the drive was smoother and quieter than the Lexus. The technology on the Subaru was very complicated and could never get maps to work. Last month I had enough and contacted a Subaru dealer near me. After working the numbers back and forth, I made an appointed to see the new Forester and Outback Touring. I loved the way the Outback Touring handled and all the features loaded in it for a better price than the original purchase of the Lexus. You can keep those Luxury cars as far as I'm a Subaru forever. The whole sales department and financing was exceptional. I can't wait to take my Subaru on its first road trip to New York in December, the only car I ever drove make for winter roads. By the way how can I order my decals for 2nd Subaru and interests? Thank you for a wonderful experience and an excellent car.
---
Coconut Creek Subaru's Make-A-Wish Drive-By Parade - Stephanie B
Daniel, a 19-year-old Coconut Creek resident undergoing treatment for a rare blood cancer, was shocked to see a long line of souped-up, high-end Subarus drive by his home. The parade reminded the young man he hasn't been forgotten even though his wish has been postponed due to the COVID-19 pandemic. Daniel has always loved Subarus and his wish is to travel to their factory in Japan to get an inside look at where and how the cars are made. He hopes to see his all-time favorite model, the WRXSTI 2004. He made his wish more than a year ago but chemotherapy made him too sick to travel. Just when he finally recovered, the coronavirus began to spread throughout Asia. Then Make-A-Wish made the difficult decision to postpone the granting of travel-related wishes to ensure the safety of wish kids and families. Daniel will have his wish granted as soon as it's safe to do so, but this "enhancement," a partnership with Subaru of America, Inc., Coconut Creek Subaru and the #NorthBrowardSubaruClub, brought an enormous smile to his face and FUELed hope for the future!
---
Stuff The Subaru Toy Drive! - Stephanie B
This Holiday Season, Coconut Creek Subaru partnered with Make-A-Wish Southern Florida during their annual #ShareTheLove campaign to help further support wish kids in need! Coconut Creek Subaru hosted a week and a half long "Stuff The Subaru" Toy Drive, and collected SO MANY brand new toys for Make-A-Wish to use as wish enhancements when visiting Wish Families in our local communities! THANK YOU TO KELLY BROWN AND HER AMAZING TEAM AT COCONUT CREEK SUBARU!!
---
Subaru Loves Pets - Good Karma Pet Rescue - Stephanie B
Good Karma Pet Rescue of South Florida is a 100% foster volunteer based animal rescue! We rely on our charity partners to help us to promote and advertise our foster animals to find them their perfect forever homes! We partnered with Coconut Creek Subaru yesterday for an EPIC Pet Adoption Event at the dealership! Dozens of adoptable animals were in attendance- and many received adoption applications too!!!! Subaru helped to collect SO many donations; toys, food, treats, beds, cages, etc!!! They provided delicious sweets, and popcorn- And everyone left with a goody bag- courtesy of Coconut Creek Subaru!!! Subaru of Coconut Creek's entire staff were SO nice and we can't wait to partner with them again soon!! THANK YOU COCONUT CREEK SUBARU!!! :)
---
Subaru Loves to Care - Chelsea S
The Leukemia & Lymphoma Society partnered with Coconut Creek Subaru visited Sylvester in Deerfield on June 18th, 2019. Jeanine Mielke and Jennifer Guadix were a huge help to both our organizations to help us spread a little love to some adults that may not have a lot of support. Giving the blankets to them may give them some type of comfort and that is all we can ask for. This location holds a huge place in the heart of Stan Anders, the general manager at Coconut Creek Subaru whose son Zachary was diagnosed with stage four Hodgkin's Lymphoma. He was nineteen at the time and a college student at FSU. With great staff under the excellent care of Dr. Hoffman, Zachary was well taken care of after 12 rounds of chemo and 15 rounds of radiation. He is now in full remission and had gone back to school to complete his degree. One year after Zachary's diagnosis, Subaru partnered with The Leukemia & Lymphoma Society to embark on this annual journey of comforting and helping patients to smile by showing lots of love and kindness.Every year it grows and you see more and more employees from both Subaru and The Leukemia & Lymphoma Society wanting to be involved.
---
A Father's Drive to Cancer Cures - Chelsea S
A group of volunteers on July 13th headed into the specialized Sylvester Comprehensive Cancer Center located at the northern end of Broward County in a city called Deerfield with boxes upon boxes of well-made blankets of comfort along with kind-hearted messages. Once inside, one of the key leaders within Coconut Creek Subaru revealed his connection to cancer. It started with the first nurse who helped out the group of eager volunteers. She smiled brightly and used his first name -then said, "How is your son doing!?"Amazing!" He answered, "And still in complete remission!"It was then that all of us realized why this delivery was so meaningful to those at Lehman Subaru. And of course, the remaining minutes were shared with patients, caregivers, and medical staff spreading words of encouragement and HOPE. The afternoon of delivering blankets extending warmth and comfort to those patients going through extensive cancer treatments impacted everyone. It is the patients and survivors that we all work so diligently to fight the cancer fight for each day. Developments in research and therapies will ultimately impact those well beyond this impactful delivery day.
---